4Q10 - Diwali Greetings from Parivar Girls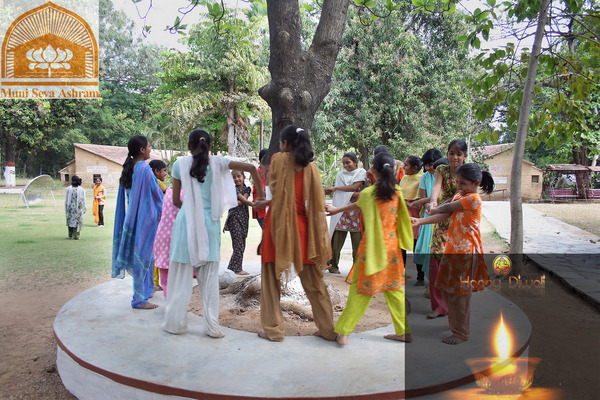 Diwali Greetings from Ashram's Parivar Girls
Dear Friends
Jay Shri Krishn

Greetings from India where I am settling back to the routine, while savouring hectic yet fond memories of my month-long trip to the US. I toured many cities from Boston to Los Angeles and Chicago to Houston and met hundreds of Ashram's supporters. It is always heartening to meet so many friends and well wishers who have stood by the ashram for years and helped it grow form a tiny hut into a large NGO meeting varied needs of the society. During this trip, I was delighted to meet many new people who have shown such an intense interest in our work and future plans.
In this second newsletter, I would like to give you a quick update on a few selected areas.
DECEMBER STUDENT VOLUNTEER CAMP:
Followinng two very successful camps this summer, we are now poised to run the third camp from Dec 26 through Jan 8. This will be an excellent opportunity for young men and women to volunteer while aquiring hands-on-experince that will guide them in making career decisions. You will find
sign-up information at
our website
. May I request you to share this information urgnetly and broadly. Please click on the "Forward to a Friend" link at end of the newsletter.
AGRICULTURE:
We have dedicated an acre of land to grow cotton.
In line with everything produced at Ashram, the cotton is organically grown without using any chemical fertilizers, insecticides or herbicides. We are anxiously awaiting the outcome, especailly because the monsoon's heavy downpour was not too kind to cotton.
Ashram has already purchased 20 Charkhas and these have been distributed among the school children, the Van Prastha seniors and the hospital & office staff. We are looking forward to wearing khadi clothes made from organically grown cotton at the Ashram.
EDUCATION:
Impressed by 25 years of exemplary experience of running two residential schools - the Sharda Mandir Primary School and Swami Vivekanand Higher Secondary School - the Ministry of Tribal Affairs has approved the Ashram to start a
Eklavya Model Residential School
at the Ashram. We have already begun the first batch with thirty students this fall. The students are selected through a competitive screening examination which is held for all tribal areas across Gujarat state. This school will continue sharing facilities with the High School until Ashram has adequate funding to construct a separate facility.
This fall we also launched an internationally acclaimed program called
Karadi Path
to teach English to Sharda Mandir's Primary School students. This program enables English learning through a process of "Language Immersion" while triggering intutitve learning processes. The program is taught through 72 sessions and each session is made up of Action Path, Music Path and Story Path. The program has been integrated with the school curriculum.
MEDICINE:
Kailash Cancer Hospital has been a pioneer in providing state-of-the-art cancer treatment since 2001. Now it is taking a giant step to improve it even more.
Earlier this year, the hospital started
Nuclear Medicine. In nuclear medicine the patient is injected with glucose impregnated with a radio-active chemical called radio-nuclide. Carcinogenic cells absorb glucose more readilly than the healthy cells, thus giving away their location when viewed under a PET scanner, shown here.
The radionuclides are made in a Cyclotron and there are only a handful of such devices in India. Ashram has made an agreement with an international company called IBA to build a cyclotron facility at the Ashram.
Please view the youtube video
. Ashram has promised to provide the land and the building and in return the ashram would get the radionuclides essentially free.
We have already designated a plot of land behind the hospital for the cyclotron project. The building's constuction begins this month. Through generous donations from many of you we have raised ~$150K. The donors would be receiving the tax receipts within a month.
The special-purpose building is expected to cost Rs. 1.5 crores or $340K. We need to urgently raise these funds. We need help and support of Ashram's well wishers from across the world. May I request you to visit
Ashram's website
where you will find instructions on how to help. Now we can accept
credit card donations
, so you can donate from anywhere in the world. Please remember that no donation is too small and that they may be tax exempt from Indian and US income taxes. May I also request you to forward this newsletter to your friends by clikcing on the link below.
Sincerely
Dr. Vikram Patel
Chairperson, Muni Seva Ashram